Select a #SolvingTogether challenge and share your ideas
Challenges listing
We want to hear your ideas! Please select a challenge from below and 'join in' to share your views. We want to hear from patients, all healthcare professionals, leaders and organisations across the areas below to hear what short, medium and long term tools and support are needed to assist with elective recovery that is inclusive, accessible and fair for all.
What is The Big Conversation? The Big Conversation brought people together for a range of interactive discussions, workshops and presentations, giving a space for people to talk through the challenges of the Covid-19 pandemic, exploring continuous improvement opportunities and sharing fresh insights and ideas on how to promote the improvement of health and care for the benefit of everyone, those who experience services and those who provide them. How have we kept the momentum going? #SolvingTogether is a regionally-led initiative that is part of a suite of interventions relating to the delivery of transformation led by Tim Ferris, Director of Transformation of NHS England and Improvement. It's an approach to capture, assess and test learning and ideas that can support support key priorities, and is currently focussed on the recovery of elective services. It will do this by mobilising the people who know the most; those delivering and receiving care and leading services. Making them fair, accessible and inclusive for all. Want to find out more about #SolvingTogether at The Big Convsersation? follow this link: https://www.thebigconversation.nhs.uk/
Join In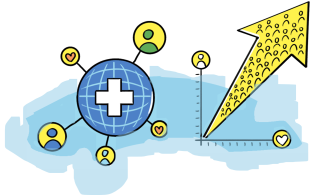 How do we make sure that the way we go about restoring elective services is fair, inclusive and accessible to everyone? How can we make sure that people with complex needs or multiple conditions don't lose out in the effort to reduce waiting times for everyone? How can we give patients choice and enable people to feel their time is valued? What can we do in maternity, severe mental illness, chronic respiratory disease, cancer and hypertension case-finding to support reducing health inequalities*? * (these are the priorities of the Core20PLUS5 programme for more information click here )
Join In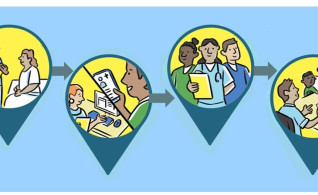 Currently many people are facing a long wait for operations. We are working hard to reduce waiting times, but we also want to support people to stay as well as possible whilst waiting. What can we do to help people to "flow" through the system effectively while improving coordination of care, patient safety, and health outcomes? How could we improve the way outpatient appointments are delivered? How can we support patients to have more flexibility, control and choice over their planned care, through better information and communication? Can we improve the pathways for people to reduce avoidable delays by ensuring we are making the best use of the latest technology, clinical time and expertise, for example building on My Planned Care and the NHS App?
Join In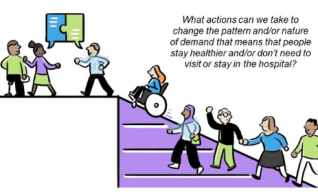 When we think about elective recovery, we often focus on the "supply" side (more access, more clinicians, more equipment, more productivity etc). But what actions can we take to change the pattern and/or nature of demand that means that people stay healthier and/or don't need to visit or stay in the hospital?​
Join In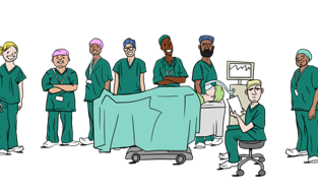 Operating theatre teams are a critical link in the elective surgery pathway of care. How can we support theatre teams to make their best possible contribution to elective care, including treating more patients who are waiting in ways that are long-term sustainable? How can we improve the experience and career progression of people in theatre teams? What new ways of working and/or delivering care could we introduce, or scale up by learning from each other? How can we attract, retain and develop people during their careers?
Join In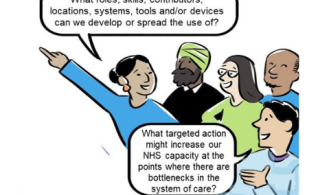 With so many people waiting for planned care, we need to find ways to boost our capacity – the amount of care we can provide at the time or stage that people need it and reducing the maximum length of time that patients wait for elective care and treatment How can we grow and support our workforce? How can we use digital technology and advanced data systems to free up capacity? How can we safely adapt the UK's infection prevention and control measures? How can we make effective use of partnerships with community and independent sector providers? What targeted action might increase our NHS capacity at the points where there are bottlenecks in the system of care?
Join In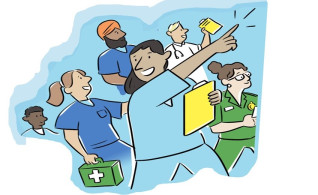 How might we deliver what we currently call planned or elective care in very different ways in the future? How could we make use of innovations that are available now to "break the rules" to radically improve care 10 years' from now? How can we best share learning to improve access and tackle waiting times? We are particularly interested in novel ways to support people with multiple conditions and ways of managing high volume pathways
Join In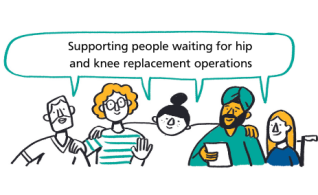 Currently many people are facing a long wait for knee and hip replacement operations. We are working hard to reduce waiting times, but we also want to support people to stay as well as possible whilst waiting. If you're waiting or supporting someone who is, how can we help you best manage your health and wellbeing until you have your hip and knee replacement operations? If you're a healthcare professional, what do you need to help support your people awaiting hip and knee replacement operations manage their health and wellbeing? If you're a healthcare, community or voluntary sector leader, what are you or your organisation currently doing to help people who are waiting for hip and knee replacement operations and how can we help you further?
Join In